Dog Wellness Exams in Myrtle Beach SC
Dog Wellness Exams in Myrtle Beach, SC
It can be hard to get ourselves to the doctor's office for a checkup on a regular basis, but it can be even harder to take your dog for their wellness exam, especially when they feel anxious or scared the entire time. Fortunately, our Myrtle Beach veterinary office provides a warm, calming environment and quality care for your dog, making it easier for you to bring them regularly for their potentially life-saving physical exams. Read on to learn more about what dog wellness exams are and why they are important for the health of your pet.
What is a Dog Wellness Exam?
Your veterinary staff will perform a nose to tail physical exam, blood tests, and fecal tests to look for the following:
Skin abnormalities
Tooth problems
Ear issues
External signs of cancer
Organ dysfunction
Diabetes
Anemia
Parasites and hook worm
A dog check up may also include vaccinations if your pet is due for a new vaccine or a booster shot. All of these tests and procedures are critical in ensuring your pet is healthy and free from pain.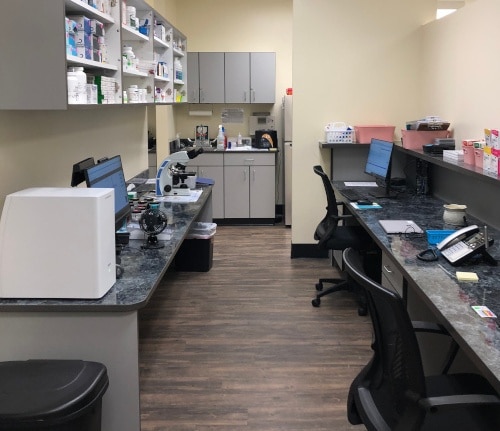 How Often Should I Take My Dog in for a Wellness Exam?
You should get a dog check up every six months. Dogs age much faster than humans, so waiting even a year to take your pet into the vet is like you not seeing a doctor for 10 years! A lot can happen in that timeframe, but seeing your local vet every six months can be critical in maintaining your dog's health.
Taking your dog to see the vet consistently can also ensure that you and your human family stay safe. Hookworms and other parasites can be transferred from dogs to humans, and this can have serious consequences. Regular wellness dog exams are absolutely important for your dog's health, but they also critical in keeping you and your family safe.
Why Should I Choose Coastal Veterinary Care?
Coastal Veterinary Care offers comprehensive care for your pets. Our dog wellness exams include a thorough examination, time with the veterinarian, patient education, and a genuine partnership with you and your pet for life.
Our office is also designed to keep your pets at ease by providing a more home-like environment instead of the typical, abrasive veterinary office appearance. Our staff carry a Fear Free certification, meaning they have received extensive training on how to make your pet feel cool and calm during their visit. We also use toys, treats, and other positive methods that allow your pet to get the care it needs without all the stress that often comes with a visit to the vet.
Why Should I Bring my Dog in for a Check Up?
Most dog owners view their pets as a beloved member of the family, and they want to make sure their pet is healthy and happy for as long as possible. Unfortunately, our pets cannot tell us outright when they are feeling unwell, and animals often hide symptoms of illness or pain, as this would have protected them in the wild.
Additionally, regular preventative care can save you significant amounts of money in the long run. Having regular blood tests and staying up-to-date on vaccines can prevent conditions that would cost thousands of dollars down the line. No pet owner wants to dig into savings or have to deny their dog care because they can't afford it, and being diligent about preventative care can help prevent this problem from ever arising in the first place.
Even if a wellness exam can't prevent some diseases or conditions entirely, catching them earlier rather than later can also make treatment much cheaper and less painful for your pet. Waiting too long can reduce their likelihood of recovery and survival, and it may increase your vet bill on top of that. The only way for you to know for sure that your dog isn't feeling ill or suffering is to bring them in for a wellness exam on a regular basis.
If you'd like to schedule a wellness exam for your dog or other pet, please contact us to set up an appointment today!